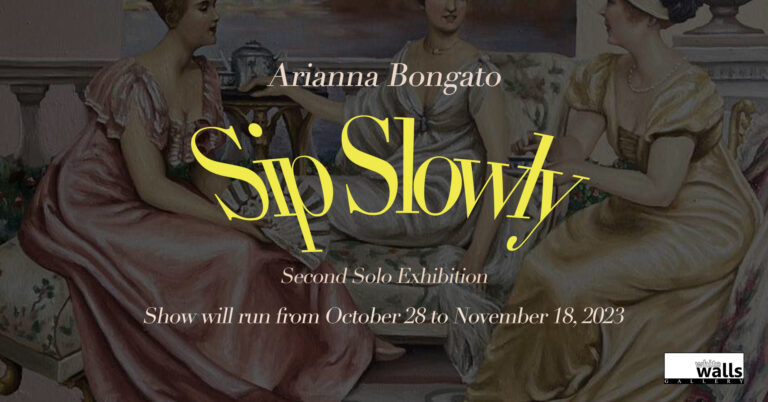 Online

Main and Loft Galleries

October 28, 2023
In slang, "tea" is a term used to refer to gossip or inside information. It is often used in the phrases "spill the tea" or "serve the tea," which means to share exclusive or provocative details about a situation or person. In the context of contemporary social spaces, it is common for gossip to be exchanged out of nowhere even when unprovoked or unverified. Though such drama invokes excitement and curiosity, there comes a time when it becomes a hassle to absorb and exchange such information. Fatigue inevitably comes at the cost of being involved with what's considered "in" and relating with others.
"Sip Slowly" is an exhibition by Arianna Bongato that prompts the act of slow consumption. The show takes the form of an intimate tea party as a setting for conversation and reflection, indicative of the artist's vision of a safe space. Marred by societal pressures, the artist conveys her management of anxiety through censoring out certain sections from her references; a practice that has become her signature style. She appropriates romantic scenes from the works of Frederic Soulacroix and Vittorio Reggianini to self-insert a vision of a temporary escape, one that exists within her own bubble and away from prejudice. Arianna invites her viewers to sit down and marvel upon the mundane by virtue of setting boundaries within the context of one's social battery.
"Though the tea is sometimes served piping hot, one must always remember to sip slowly!"
About the Artist
Arianna Bongato (b. 1998) is a contemporary artist based in Pateros, Philippines. She graduated Cum Laude at the University of the Philippines – Diliman with a Bachelor's Degree in Studio Arts, Major in Sculpture. Last November 2022, she celebrated her First Solo Exhibition at White Walls Gallery, Makati. Other major group exhibitions include Focus Art Fair (London, 2023), Art Fair Philippines (2022-2023), Xavier Art Fest (2022-2023) and Art in The Park PH (2020-2023).
Arianna Bongato's works deliberately identifies areas to delete in her appropriated imagery in an attempt to evoke a sense of visual economy. Her process challenges maximality and conformity by scaling down dramatic tableaux from antiquated paintings into select impressions. In doing so, the artist creates a new image by concealing or "censoring" sections, thereby providing her compositions with a negative space that is both inviting and enigmatic.
This online exhibition will continue to be updated. Please come back to visit this page in its entirety soon.