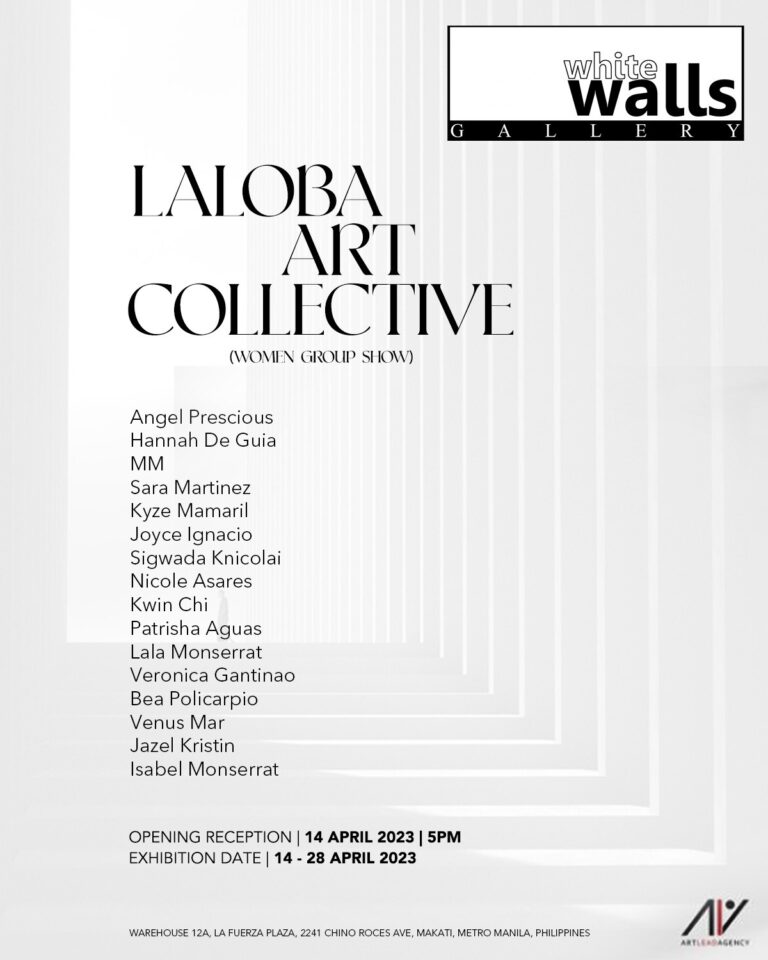 Online

Loft Gallery

April 14, 2023
White Walls Gallery presents the Women's Group Exhibition of Art Lead Agency.
Participating artists include Angel Precious, Bea Policarpio, Hannah De Gaia, Isabel Monserrat, Jazel Kristin, Joyce Ignacio, Kwin Chi, Kyle Mamaril, Lala Monserrat, MM, Nicole Asares, Patricia Aguas, Sara Martinez, Sigwada Knicolai, Venus Mar, and Veronica Gantinao.
Laloba is a mythological figure who is often associated with the creative power of women. In many cultures, Laloba is believed to be a woman who possesses the ability to weave and create beautiful things out of raw materials, such as wool, fabric, or even the fibers of plants.
Laloba is often associated with the idea of transformation, as she takes these raw materials and turns them into something beautiful and useful. This is seen as a powerful symbol of the creative potential that exists within all women, and the ability to transform one's own life and circumstances.
In some cultures, Laloba is also associated with the moon and the cycles of nature, which are seen as important sources of inspiration for creativity. She is often seen as a guide and mentor for women who seek to tap into their own creative power, offering them wisdom and guidance as they navigate the challenges and obstacles that can arise along the way.
Overall, Laloba represents the deep connection between women and creativity, and the transformative power that can be unleashed when women tap into their own innate creativity and use it to create beauty and meaning in their lives.
This online exhibition will continue to be updated. Please come back to visit this page in its entirety soon.