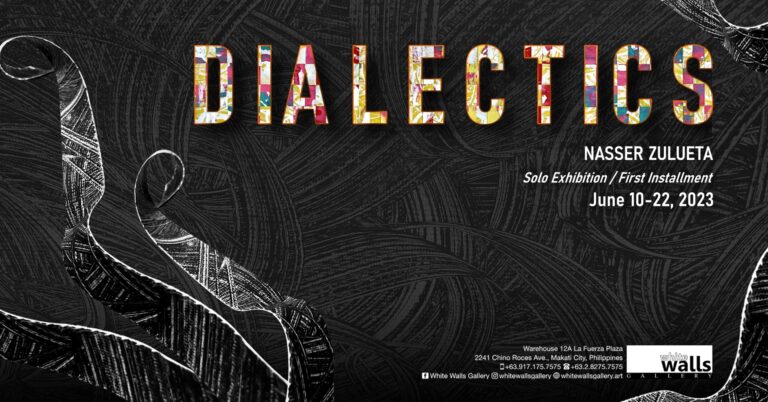 Online

Main Gallery

June 10, 2023
Dialectics offers a captivating exploration of Nasser Zulueta's formative years achieved through a masterful fusion of philosophical and materialist principles. In his artistic repertoire, Zulueta consistently employs the recurring theme of binary opposition like heavy and light, good and bad, and order and chaos. Drawing inspiration from Hegelian dialectics, he perceives his childhood as a bittersweet synthesis of pleasant and painful memories that have shaped his identity.
In translating his complex past, Zulueta harnesses the weaving techniques he acquired from his profound encounters with the mat weavers of Isla Verde. Utilizing separate canvases adorned with conflicting images, Zulueta delicately cuts them into strips and intricately weaves them together. This meticulous process creates a visual tension that gives rise to exquisite abstraction, unveiling new perspectives and realizations.
Dialectics is Zulueta's most intimate and elaborate work to date, inviting viewers to embark on a reflective journey down memory lane and contemplate their personal experiences. His artworks possess an intersectional and transcendental quality, affirming the profound impact of retrospection and the inherent role of art in reconciling with the past. Zulueta's masterful creations challenge viewers to reassess their truths, unlocking fresh ways of understanding and interpretation.
This online exhibition will continue to be updated. Please come back to visit this page in its entirety soon.