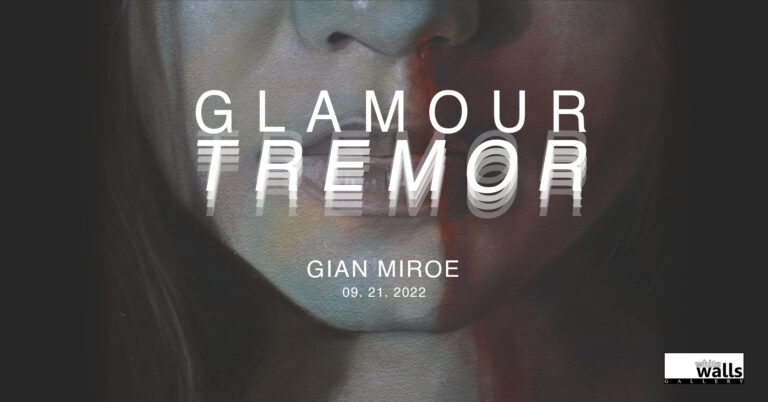 Online

Main Gallery

September 21, 2022
"Glamour Tremor" is the Fifth Solo Exhibition by Gian Miroe. Show opens on September 21, 2022.
In this age of uncertainty, many individuals deal with misery, dread, and a sense of loss, but Gian Miroe sees them as tribulations, misery, and grief. This prompted him to create his collection for his fifth solo exhibit, "Glamour Tremor."
To some, the idea of grief may seem a little heavy, however, it demonstrates the artist's courage in using such a powerful feeling and in illustrating how various people interpret the same emotion in different ways through his artistic expression.
Although grief may be associated with a loss of a loved one, one can also go through it because of a loss of one's self. The artist frequently utilizes painting as a vehicle for conveying aspects of himself that language cannot adequately capture. With this being the artist's fifth art exhibit, this collection is one of his most profound ones to date.
The artist consistently uses gloomy and gray hues to evoke a sense of mourn and devastation. He also included elements in his artwork that represent death, suffering, and loss, such as skulls, blood, and shadows. One of his most eye-catching pieces in this collection entitled, " Okay? Okay. " focuses on complicated grief associated with a loss of a part of one's past self because of a painful event. Lamenting the loss of a piece of herself due to a single unfortunate experience. Because of the significance of it, it is actually one of the most moving works in this exhibition.
For his fifth collection, He focused on creating a narrative that addressed how one could feel after experiencing a loss. Many of his pieces depict the many depths to which individuals may descend when experiencing sorrow and agony, which also captured the feeling of being completely alone in your grief.
To every viewer's eye, they may see the artwork differently from what he felt when he was creating his pieces but one thing is certain, Gian sees and feels the sadness in people's life and the circumstances that they are in.
This online exhibition will continue to be updated. Please come back to visit this page in its entirety soon.