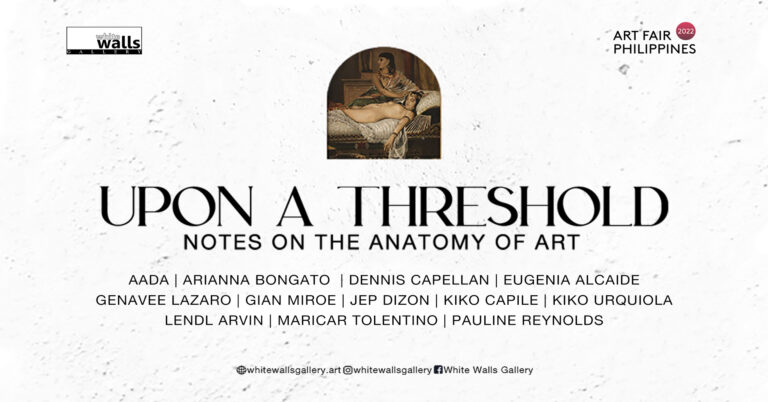 Art Fair Philippines 2022 Exhibition
Online

Loft and Collector's Galleries
This exhibition serves as a collection of narratives formed by contemporary Filipino artists to explore intimate conversations about their origins and art practice.
As society enters a vague, new chapter in history, one may find him or herself at a point of paralysis, not knowing how to face the life that lies beyond. Like a facade or force intimidating whomever it faces, the future may seem comparable to ominous dusk on the horizon. But rather than cower in fear, it appears to press forward one must take a gracious step back from reality.
By situating the self at an imaginary threshold, taking time to reflect on one's humble beginnings, and thinking of the journey that took for one to get where he was to where he is now, a necessary reprieve is presented. Through the complexities of portraits compositions in Ink, Paint, Sculpture, New Media, Embroidery, and other forms of Mixed Media, the artists lay tribute to the methodology of their own philosophy. Like the human body is examined inside-out, the collection provides an anatomy of art, laid bare for scrutiny. By stripping down to their foundations and labeling points of interest, the artists rediscover the core essences of their craft, this drive of which promises to continue blazing them to confront every hurdle in their way, as it has done before.
Problems are inevitable and will present themselves unperturbed. They will ask questions that can hardly be answered and bully one to lower themselves below their worth. It is only natural to hesitate to cross the boundary, but even more so, it suggests the need to pull strength from an inherent flicker of support. Amidst all the questions that the future may throw, an inquiry is presented from the present, the answer of which is referenced from the triumphs of the past.
Exhibition notes by Arianna Bongato
Participating artists include AADA, Arianna Bongato, Dennis Capellan, Eugenia Alcaide, Genavee Lazaro, Gian Miroe, Jep Dizon, Kiko Capile, Kiko Urquiola, Lendl Arvin, Maricar Tolentino and Pauline Reynolds.
Lynyrd Paras - "Fear is the Weapon"