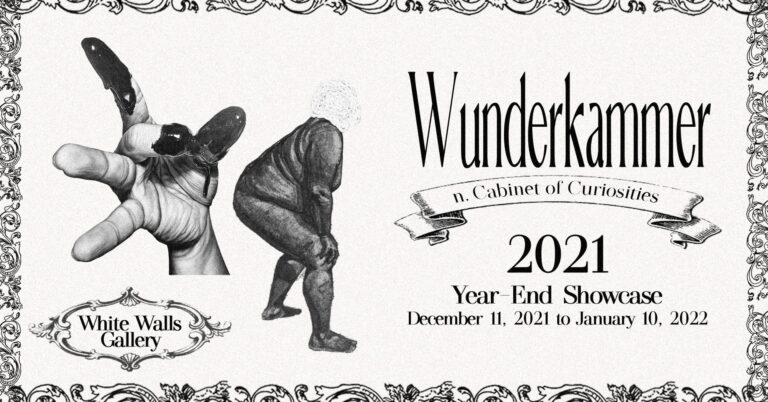 Online

White Walls Gallery

December 11, 2021
As a gift of thanks to the community, White Walls Gallery presents its very own Cabinet of Curiosities, inviting artists and visitors alike to come and view this year's contemporary artifacts in an open-themed exhibition reflective of tales worth telling for the years to come.
Featuring works from 027.05.01, AADA, Alexis Marga, Alvin Florentino, Amos Malayao, AR Manalo, Arianna Bongato, Aryan Sandiego, Aubrey Caabay, Aubrey Fajardo, Aui Suarez, Binong Javier, Blaise Zamora, Cezar Cardel Jr., Cholo Cardenas, Dave Alcon, Demetrio Dela Cruz, Distort Monsters, Edmond Rivera, Edwin Martinez, Efren Carpio, Ezekiel Fajardo, Fitz Herrera, Franz Vocalan, Gab Ferrer, Gab Hulleza, Gabby Prado, Gelo Cinco, Gian Miroe, Gromyko Semper, Isha Naguiat, Jao Pelaez, Jaypee Enriquez, Jay Ragma, Jep Dizon, Jerline Sunga, Jobert Cruz, Jonathan Dangue, John Loyd Benz De Leon, John Nabor, Joseph Fraylon, Joshua Torres, Kapitan, Katarina Estrada, Kel Hilario, Kenneth Mamaril, Kiko Urquiola, Ku Romillo, Lee Salvador, Lendl Arvin, Marc Salamat, Maricar Tolentino, Mark Arcamo, Mark Francisco, Mark Turbolencia, Marionne Contreras, Martin Honasan, Mev Abac, Miguel Franco, Nasser Zulueta, Natasha Juliano, Niccolo Inocencio, Odang Putik, Oil Caram, Ivy Floresca, Popoy Aspiras, Rafael La Madrid, Raphael Carloto, Reine So, Renee Avila, Rum Corvera, Sais, Selina Ramos, Steph Alvarez, Therese Balmori, Tom Russ, Tracie Anglo-Dizon, Victoria Fabella, Xjin, Yao Sampana and Yasmin Almonte.
This online exhibition will continue to be updated. Please come back to visit this page in its entirety soon.