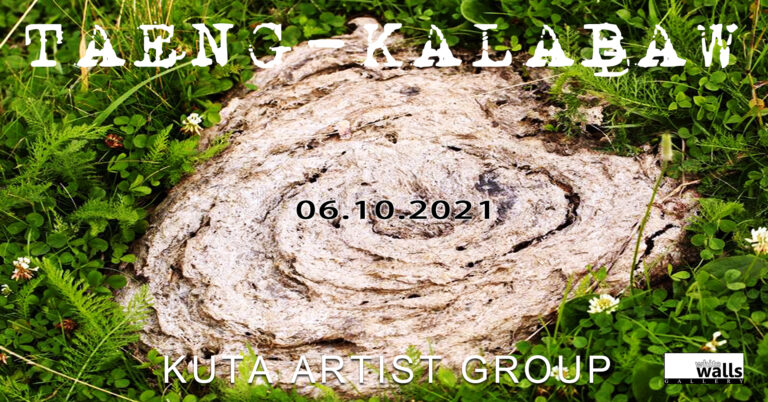 Online

Loft Gallery

June 10, 2021
The Kuta Artist Group, in celebration of their 10th year anniversary, presents "Taeng Kalabaw" as a prequel showcase in part of a series of exhibitions laid out in retrospect of the group's history and continued expansion. The show aims to be a repertoire of anecdotes telling the many narratives involved within the group, symbiotic of their rural identity. Coming from Rizal, members have spoken of the parallels between their will as artists and the Carabao trails eminent in the environment the grew up in. As grass fields slowly convert into commercial lands, something as taboo and ridiculed as Carabao waste acts as a symbol of heritage and perseverance.
Participating artists include Azriel Domingo, Carlmel Belda, Cezar Cardel Jr., Dzen Salinga, Elvira Dulce S. Santos, Eugene Dominguez, Franz Marion Vocalan, Gretel Balajadia, Isidro "Manong Jon" Santos, Jerline Sunga, John Loyd Benz De Leon, Jonas Arlegui, Mark Francisco, Rommel Gonzales and Silay Guilaran.
About the Artist Collective: 
The Kuta Artist Group was established by Isidro "Manong Jon" Santos as a place to support local artists in Angono, Rizal. Members of the group are known for their modernist approach in exploring various contemporary themes such as personal and social displacement, reclamation of memory and etc. Over the years, artists from the group have gained recognition in various local art competitions such as the Metrobank Arts and Design Excellence Competition, the Philippine Art Awards, the Shell National Students Arts Competition and much more. Notable members from the group include Siefred Guilaran, Gretel Balajadia, Aui Suarez, John Loyd Benz De Leon, Franz Vocalan, and more.
This online exhibition will continue to be updated. Please come back to visit this page in its entirety soon.