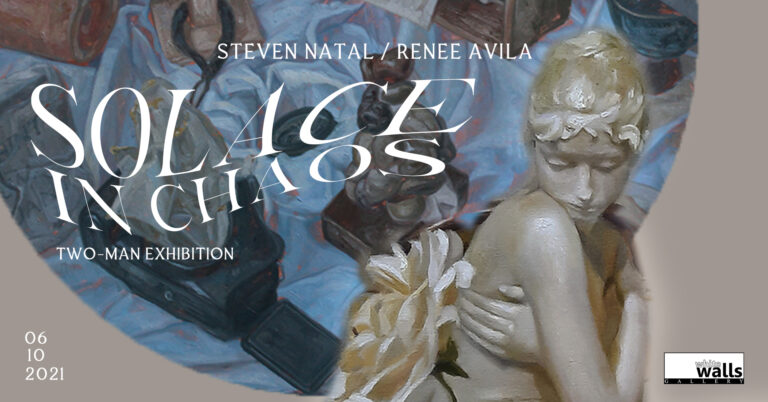 Online

Main Gallery

June 10, 2021
"Chaos is merely order waiting to be deciphered." – Jose Saramago
It's inevitable these days to encounter something tumultuous. At times, our problems feel as if they are piling up and waiting to tip. Entropy runs from the psyche of one person to another, but therein lies a certain peace that comes about accepting the presence of all the madness happening. Amidst all the chaos, we take comfort in the little things that help us stop and breathe.
"Solace in Chaos" is a two-man exhibition by Renee Avila and Steven Natal, chronicling their interpretations of finding reprieve amidst the furor of everyday life.
Renee Avila is a visual artist from Quezon City who graduated with a Painting Degree at the University of Santo Tomas. Her works often portray classical figures with motifs from nature, taking inspiration from popular sculptures and neoclassical paintings by William-Adolphe Bouguereau. She has participated in competitions such as the "Kulayan ang Ganda ng Pilipinas" Robinsons Land Corp. National Competition and at present frequents local and international exhibitions.
Steven Natal is an artist who graduated with a Bachelor's Degree in Visual Communication at the Bulacan State University. His works represent narratives in the form of carefully composed still-life arrangements, meant to provoke a deeper interpretation apart from initial viewing. He has been recognized in various art competitions such as the Shell National Student Art Competition and is slated to continue showcasing his works in local art exhibitions.
This online exhibition will continue to be updated. Please come back to visit this page in its entirety soon.