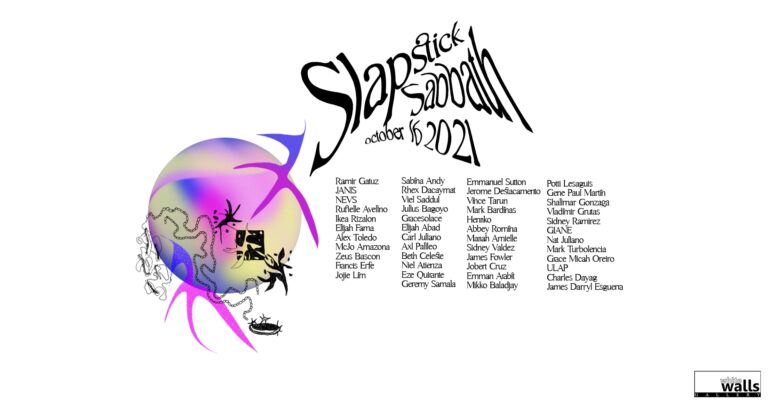 Online

Loft and Collector's Galleries

October 16, 2021
In Rene Magritte's "Golconda", there are two initial feelings that attack its audience: awe and curiosity. The linearity that the composition imbibes make the floating/falling men appear to be part of a system—a continuity of existence through others. And yet, their singularities contribute to the entirety of the piece. It is a paradoxical balance of opposing ideas that give this piece a sense of completeness in its narrative. An unquestionable coherence in their differences that all the more made them the same.
And somehow, it is this same coherence that captures Slapstick Sabbath's essence—either the subjects are parts of a whole; like the same color of a brush stroke, or the same bristle of a brush, or the same pigment of a paint. Yet, they are still nuanced by their contribution to the whole.
While in its communal sense, the exhibit relatively tackles a sense of unity and a culture of familiarity built by friends of friends of friends. Having been initially drawn from a series of long-standing group exhibitions, which were rooted by a collective of Far Eastern University art students and alumna, Slapstick Sabbath recommends just that—a pause on the farcical. Its initiative welcomes the group's gradual maturing, which in hindsight, appears as if it is a retrospective of the galere's first "children". This group exhibit presents as a testament of both each artist and their community's progression.
Perhaps these are what the men of "Golconda" symbolize: there is something more than just a convergence of or an attempt to balance the differences. They represent a perspective of growth both diverse and conventional and the initiative to connote them as one. With more than 40 artists in its line-up, Slapstick Sabbath does just that—to create a sense of awe and confusion, yet leave one with an unspoken feeling of familiarity
About the Show
"Slapstick Sabbath" is a group exhibition organized by Julius Bagoyo showcasing works by local artists from the Far Eastern University. Participating artists include Gene Paul Martin, Ikea Rizalon, Zeus Bascon, Mark Bardinas, Julius Bagoyo, Mark Turbolencia, Ramir Gatuz, JANIS, NEVS, Rufielle Avelino, Elijah Fama, Alex Toledo, McJo Amazona, Francis Erfe, Jojie Lim, Emmanuel Sutton, Jerome Destacamento, Vince Tarun, Henriko, Abbey Romina, Mariah Amielle, Sidnez Valdez, James Fowler, Jobert Cruz, Emman Arabit, Sabina Andy, Rhex Dacaymat, Viel Saddul, Gracesolace, Elijah Abad, Carl Juliano, Axl Palileo, Beth Celeste, Niel Atienza, Eze Quiarante, Geremy Samala, James Darryl Esguerra, Potti Lesaguis, Shalimar Gonzaga, Vladimir Grutas, Sidney Ramirez, GIANE, Nat Juliano, Grace Micah Oreiro, ULAP, Charles Dayag and Mikko Baladjay.
This online exhibition will continue to be updated. Please come back to visit this page in its entirety soon.