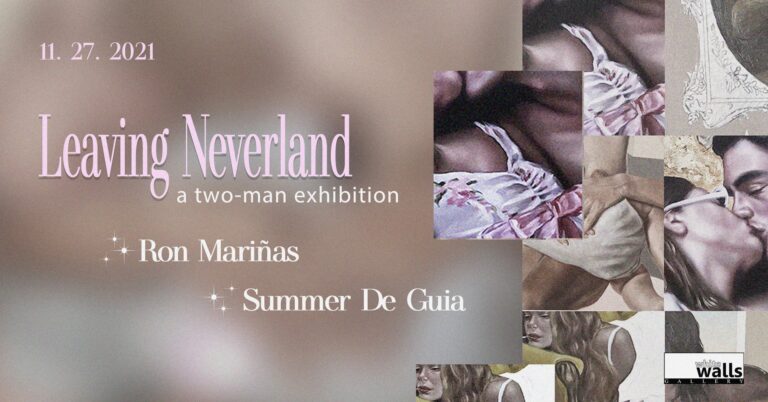 Online

Main Gallery

November 27, 2021
"Leaving Neverland" chronicles Ron Mariñas and Summer De Guia's transition to adulthood through a series of figurative oil paintings, representative of their reactions to the trials of contemporary life. Upon moving out from their family homes, the two young artists detail the storm of emotions they've encountered post-exodus; confronting societal expectations, anxieties of the future and their own identities.
ABOUT THE ARTISTS:
Ron Mariñas is a symbolist painter known for his distinct art pieces with golden palette and fashionable concepts. His tasteful art style has a unique flair that creates captivating pieces by using his modern male subjects and presenting them in the most relatable way. His works also showcase semi pop nude paintings with his iconic concepts in a sensual setting. Mariñas' graduated from one of the esteemed universities in the Philippines, The University of Santo Tomas, and currently taking up his Master's Degree at his Alma Mater. His paintings are decidedly influenced by Idealism in art. Mariñas is well recognized as a Classical Figurative Symbolist with a tad touch of Modernism.
Summer De Guia's dynamic visuals are classical compositions with modern, conceptual juxtapositions in portraiture. Her usual subjects are women painted realistically against flat, plain-colored backgrounds. At present, she focuses on distorted nude women on closed intimate spaces capturing their essence through the female gaze.
This online exhibition will continue to be updated. Please come back to visit this page in its entirety soon.