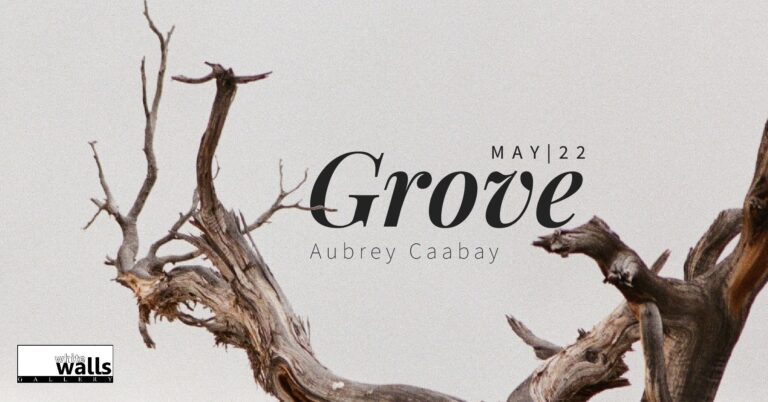 Online

Collector's Gallery

May 22, 2021
Imagine a solitary grove, you standing alone in the midst of spindly trees. A bird flies, emitting a lone, high sound, echoing for miles. Afterwards it is silent as the grave, but oddly comforting. You look around and see a tree draped with a myriad of colorful cloth, its stark naked branches peeking from beneath. Welcome to Aubrey Caabay's fifth solo show, "Grove".
Solitude is the overarching theme, and it permeates each piece. A spindly tree, stark against the blue sky, contrasts with the different cloths hanging off it. In some pieces, a face peeks from behind the drapery, eyes closed, as if in deep sleep. Each object appears alone despite being together, the tree solitary on its own against the horizon, the cloths as if discarded and left behind, the sleeping faces unperturbed by anyone else. Together, but alone, in a solitary grove in the middle of nowhere.
Aubrey Caabay goes a step further with her mixed media pieces, a combination of fabric, resin and oil on glass. The faces are awake now, their gazes on the viewer or somewhere off left, still with the calm expression reminiscent of the sleeping ones, as if just awoken from deep slumber. Covered by colorful fabrics, they remain in a stasis, floating on glass, detached from the world. Again evoking Ukiyo-e, Caabay's paintings remind you as if of a fleeting memory, something remembered at the edge of consciousness.
Exhibition notes by JC Florendo
About the Artist:
Aubrey Caabay is a contemporary visual artist that graduated from Far Eastern University with a degree in Fine Arts major in Advertising Arts. She paints women surrounded by a fabric. Her subjects are often in a dream like state with her soft textures and colors. Caabay may take inspiration from several artists but one art style is most important to her. She looks to the practice of Ukiyo-e, focusing on the composition to inform her own works. Her women are framed by various cloths of different prints and textures, evoking the way Ukiyo-e pieces are composed. Like the art style, she depicts her women beautifully, capturing them in a fleeting moment of repose, as if in a floating world, like unto a dream.
This online exhibition will continue to be updated. Please come back to visit this page in its entirety soon.