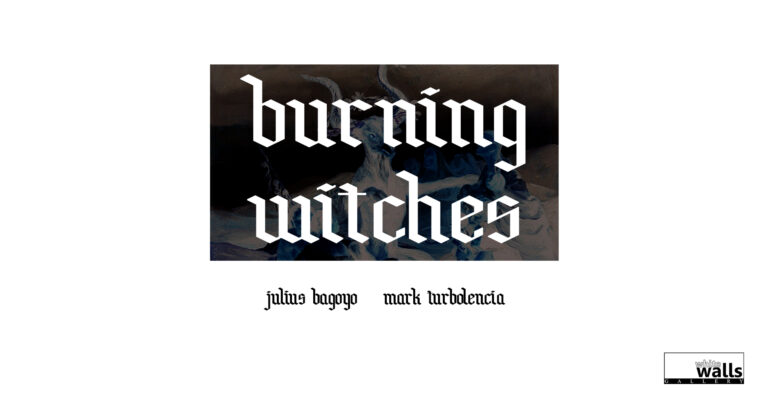 Online

Collector's Gallery

April 24, 2021
"Burning Witches" is a conceptual two-man exhibition by Julius Bagoyo and Mark Turbolencia, featuring works influenced by pop culture, pilgrim symbols, and classical paintings. Julius and Mark's works draw on the idea of burning witches on a stake as a bygone equivalent of today's "Cancel Culture". By presenting nobility, stylized in Julius' signature warping, vis-à-vis Mark's bloated and persecuted figures, their thesis calls upon the morality of subjecting individuals to public scrutiny and humiliation, similar to that of holding accused "witches" in public for trial. As dated as these events go, "Burning Witches" wishes to reflect its contemporary manifestations to us at a time where social media connects people to more askew perceptions of each other; in effect questioning whether it is valid to perpetuate excessive defilement over constructive judgment online.
Julius Bagoyo is an artist from Laguna who graduated with a Bachelor's Degree in Advertising at the Far Eastern University. His works strive to make statements that embody his ideas of eccentricity and non-conformity, often composing his figures with elements that serve to reflect visions of the world inside his mind. An accomplished painter, Julius is no stranger to exhibiting his works, as he continues to cultivate and share his art through numerous shows in Metro Manila.
Mark Angelo Turbolencia is a young artist from Catanduanes, Bicol. Born in 1994, he took up a degree in Fine Arts majoring in Advertising and graduated from the Far Eastern University. His works are often inspired by humanities – physical, metaphorical, spiritual, and sometimes astronomical concepts. Influenced by his sibling's medical background, he regularly incorporates the use of blood as the main medium in his art pieces. His compositions usually present figures painted in blood with hand-stitched elements over acrylic backgrounds. Though his decision to use blood as a medium may seem unconventional, he believes that the concept is nothing new and can be traced back to earlier times of humanity as a form of documentation.
This online exhibition will continue to be updated. Please come back to visit this page in its entirety soon.