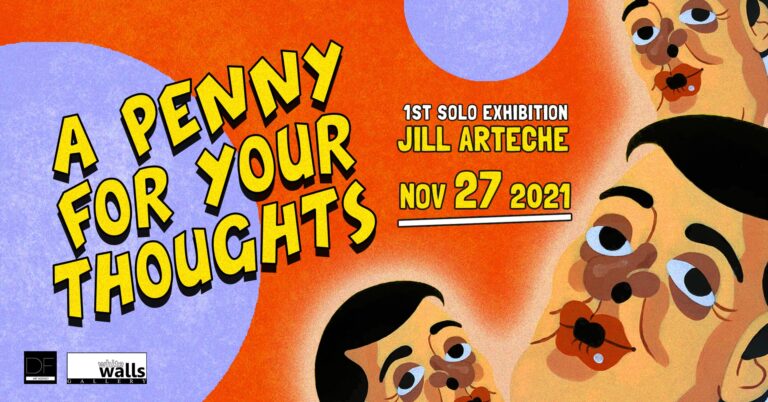 Online

Collector's Gallery

November 27, 2021
White Walls Gallery, in collaboration with DF Art Agency, is proud to present Jill Arteche's First Solo Exhibition "A Penny for Your Thoughts".
Idioms are nonsensical phrases that give charm, color, and humor to conversations. Moreover, they are able to explain complex ideas in simple ways.
Jill Arteche aims to make meaning of the frivolity and senselessness of life by personifying idioms in a series of vibrant works. Her illustrations, rendered in signature fashion, reference people and everyday scenes, mirroring her favorite idioms' figurative meanings, such as "Crocodile Tears" and "Monkey See, Monkey Do". Just as the title playfully suggests, she prods her viewers with an inquiry, asking them of their thoughts and creating a space where humor and human experience can be expressed.
ABOUT THE ARTIST:
Jill Arteche is a Filipino visual artist and illustrator. In 2017, she graduated with a Bachelor of Fine Arts degree in Information Design from Ateneo de Manila University and was honored with the Loyola Schools Art Award for Excellence in Illustration. In 2019, she completed a residency in Illustration and Visual Storytelling at the School of Visual Arts in New York City.
Her body of work focuses on depicting people and everyday experiences with her own touch of humor. Valuing her freedom as a visual storyteller, she aims to transform the mundane into the comical and lighthearted.
Her distinctive style has allowed her to work with local and international clients such as Nike, San Miguel Light, SM Retail, WeTransfer, The Philippine Star, Power Mac Center among others. Additionally, her work has also been exhibited at the Ayala Museum, and at the Tokyo Midtown Design Hub in Japan.
This online exhibition will continue to be updated. Please come back to visit this page in its entirety soon.