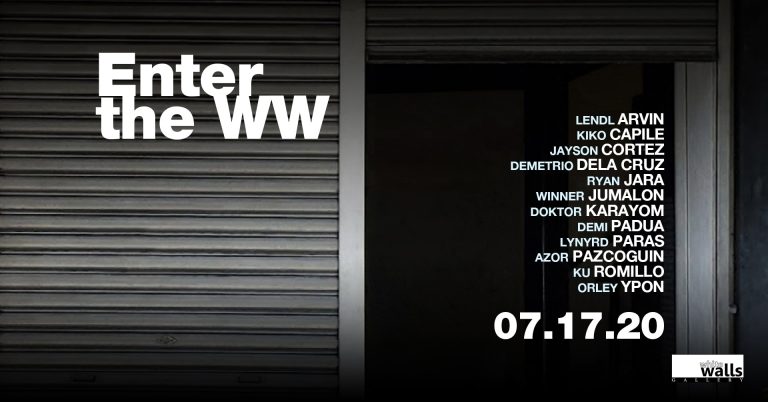 Online

Main & Loft Galleries
What happens when our most basic needs for survival, freedom and safety are suddenly threatened by a befuddling global crisis?  During this pivotal time in human history, new changes unravel faster than the alleged spread of the virus.  We learn to live with a lurking fear of imminent danger and we strive to find comfort in uncertainty.
Exploring insights and various themes inspired by our current predicament, "Enter the WW" offers fresh perspectives on the meaning of True Humanism, on empathy and human resilience, as well as the psychological toll of unpredictability.
Featured at the Main and Loft Galleries are oeuvres by multi awarded visual artists Lendl Arvin, Kiko Capile, Jayson Cortez, Demetrio Dela Cruz, Ryan Jara, Winner Jumalon, Doctor Karayom, Demi Padua, Lynyrd Paras, Azor Pazcoguin, Ku Rumillo, and Orley Ypon. 
The entire collection makes a definitive statement of content and craftsmanship where each canvas succeeds in bringing together contrasting elements into a striking and harmonious whole.
– Luisa Roldan
Lynyrd Paras - "Fear is the Weapon"